Journey Therapy
Because life is a journey . . . and sometimes it's hard
WELCOME NOTE
"I'm just trying to be healthy . . .
I hope you'll join me."
My hope is to teach my clients to embrace that as their mantra in life: THAT is what it's all about.
Life IS a journey. And it can be difficult. The goal is to learn not only to face challenges, but to grow from challenges. The key to a life of happiness and fulfillment is learning what it means to BE healthy, and how to cultivate healthiness in the relationships that are important to us.
-- Tegan Blackbird, Ph.D.
Dr. Tegan Blackbird
Journey Therapy is the solo, private practice of Dr. Tegan Blackbird.Dr. Blackbird is a licensed psychologist and seasoned clinician who has lived and practiced in central Pennsylvania for over 30 years. He has post-graduate degrees in clinical and experimental psychology and has extensive inpatient and outpatient experience working with children, adults, families and parents. He's also a certified school psychologist, and has particular experience in marriage and family therapy.
He is well-known in the area for his clinical skills and judgment, and for his commitment to coordinating care with other providers.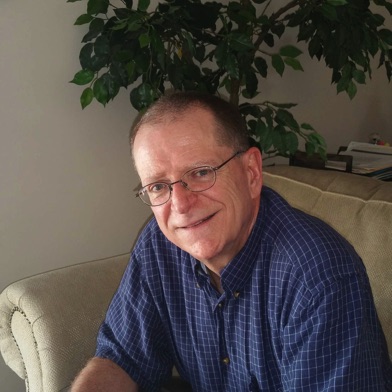 Journey Therapy provides psychological services to children, adolescents, adults, parents, families and couples.
We are passionate about life-coaching and individual counseling and therapy across the lifespan. We believe that healthy relationships are the most important things in our lives, and that good relationships take a lot of work.
We also believe that while life comes with many challenges, those challenges not only make us stronger, but that with proper guidance we can come through our struggles in a better place than we were when our struggles began.
Dr. Blackbird will work with you from a theoretical framework that best meets your needs. He works largely from a cognitive-behavioral orientation, but has considerable background as well with behavioral psychology.
When dealing with family and couples issues he primarily works out of an "Emotionally-Focused" framework.
"Dr. B" does not prescribe medications, but has considerable background with psychopharmacology. With your permission he will coordinate medication needs with your family physician, pediatrician, or psychiatrist as needed.
He is committed to provide the best possible psychological services within his areas of expertise and to reflect the value system of the Christian faith.
This commitment to the whole person includes an integrated approach when dealing with psychological and spiritual concerns. A client's faith commitment is valued, and spiritual leaders important in a client's life will be contacted at the client's request.
Insurance
The only insurances I work with are Highmark, out-of-area Blue Shield and Medicare.
Remember that insurance will only cover if the services you seek are related to a medical diagnosis (e.g., depression, ADHD, anxiety, OCD, etc.). Other services will generally be private pay. Please call the number on the back of your card for information on what they will cover, and what your out-of-pocket expenses are (e.g., your deductible and copay). "Some" out-of-state Blue Cross plans will also provide coverage for my services as well, because they use Highmark's network.
Note that Highmark and Medicare do cover telehealth services.
If you need help understanding your insurance coverage, please email us or give us a call.

Our Patient Portal: Communication and Scheduling